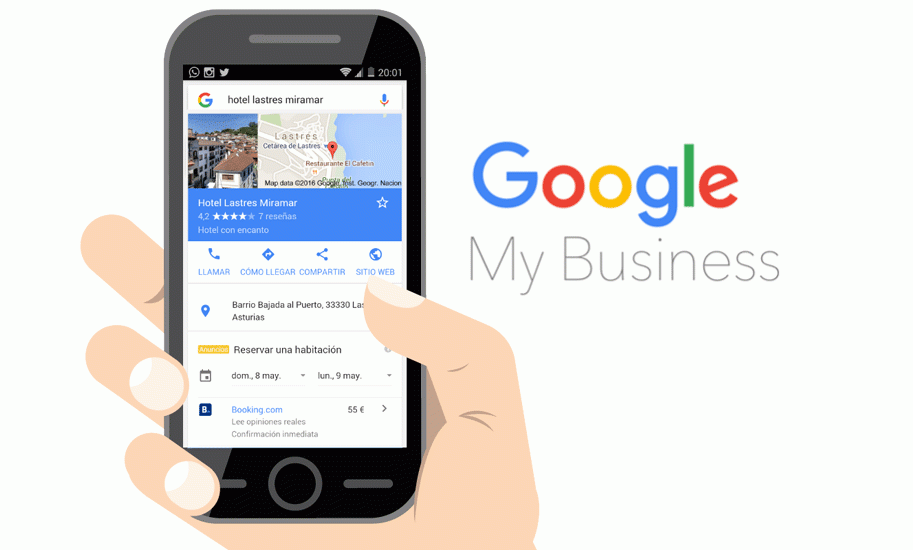 Google Business Profile
Google My Business is a tool aimed at businesses that allows you to create a digital card as a way of presenting your business to the public on the internet and also allows you to receive user's feedback.
To start using this tool you just need to search "Google My Business" or "Google business profile" in the search engine and click on the first result, then click on "continue" or "Manage now" and you will have to provide some details of your business, we'll explain in it how to do it later.
As mentioned above, this tool can be found as "Google My Business" or "Google business profile" since initially its original name was Google My Business and it had an app for Smartphones. After a while its name was changed to Google Business Profile and no longer has an app, it can easily be found in the search engine. However, this tool can still be found with its original name.
This name change is important data, because if you are looking for more information you must verify that it is updated information, since this tool has had many changes and they constantly update the Google Business Profile tools, this way you avoid getting confused with the use of the profile.
When you create a Google Business Profile, the detailed information about your business will appear in the search results when someone searches for your business name or information related to your services/products, that is, with the representative keywords of your business. An example of keywords is: if your business is gardening, when a user inserts words like "spring flowers" "planting tulips" etc. Google will show your business information to the user
The following image is an example of how a Google Business Profile looks like. You can see the name of the business, physical address, business hours, phone number and website.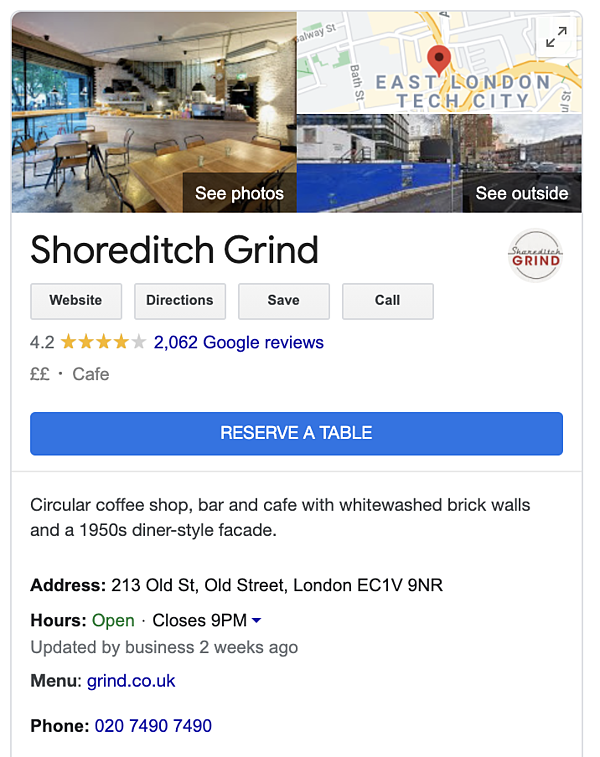 It also has a 5-star rating which is rated by users. Another beneficial factor of the GBP is that it allows you to appear in Google Maps, in the image you can see a button that says "Directions", when a user clicks it automatically directs him to Google Maps where it offers a route to get to your workplace. If your business is a restaurant or a physical store, this tool will be very helpful, likewise it helps you with all those customers who do not want to reach your store and prefer to make a quick call.
In your profile you can also find information that you have not added, for example, opinions, experiences or photos that users want to share, these ratings can be answered by you, on more than one occasion you will have to deal with a bad assessment or experience, our advice is to answer this way:
1. Thank the user for their honesty
2. Apologize for the bad experience
3. Take responsibility
4. Offer a solution
If you suspect that the user is fake and only wants to tarnish your reputation you can report it and let Google take action on the matter. The important thing is that you handle the situation professionally and do not get upset, do not make the mistake of deleting negative comments, that will only make the user angrier and the situation worse.
A tip from us is to make sure that the contact and address information is completely correct, according to Google, 67% of consumers lose confidence in a brand by getting lost on a route because of incorrect information on the GBP and 73% of consumers lose confidence in a brand when they find incorrect contact information
The purpose of this tool is to help you with your online presence and get greater visibility. Google is one of the most used search engines in the world, so being inside this search engine will help people know your business.
Steps to create your Google Business Profile
● Gmail email

The main thing you need is a Gmail email and with this same email you will create a business profile in Google.

● Register

As mentioned above, you can search this tool like Google Business Profile, click the first result and then click on Manage Now to register your business.

● Your business data

You will continuously have to provide details about your business

1. First the name of your business
2. Type of business (online sale, local/physical store, service company).
3. Enter a website link (you can skip this part if you don't have a website).
4. Enter a business category.
5. Enter your business address (country or region, address, zip code, city and department).
6. You must mark the exact location of your business on the map.
7. Add a phone number to contact you.
8. Finally, you must verify that you manage the company, you will have the option to select how you want to get a verification code (automatic call or a text message to the phone number you added at the beginning).
● Customize your profile

Once you've verified your profile, you can start managing your business profile. You can start by inserting pictures of your products/services, a short description and opening hours. According to Google data, businesses that have images in their Google Business Profile have 42% more requests and 35% more clicks on their website than those that doesn't.

Now you know what Google Business Profile is and how it works, if you want to start in GBP or if you have more questions you can contact us at any time. We're here to serve you.